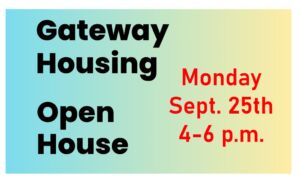 The City of Arcata is holding an open house on "Gateway Housing" at the D Street Neighborhood Center, on the university side of 101 at 13th & D.  This will be on Monday afternoon, September 25th, from 4 to 6 p.m.
There will be a comment box for you to submit your views, suggestions, and ideas. All comments will be scanned and later presented to the City Council, the Planning Commission, and the public.
If you are not able to attend this meeting —  or if you want to enter your comments here on Arcata1.com — please go here to enter your ideas, opinions, views, and suggestions.
The flyer announcing this open house informs us:
"Come tell us your housing story and what you think Arcata should be doing in response to the housing crisis."
"Your story matters! If you have a house or want a house in Arcata, you probably have some thoughts on housing."
The irony here, of course, is that we are not likely to see any new actual single-family houses in the Gateway area. The housing there will be apartments and a small number of non-detached townhouses.
The flyer also tells us that the plan will create affordable housing. It is my view that the Gateway Plan does not go anywhere near far enough in promoting or requiring actual workforce affordable housing where people with jobs and decent incomes will manage to live. See the Affordability and Home Ownership page for more on this.
The time of day of the open house has been met with public criticism. For plenty of working people and anyone with a child or children, 4 to 6 p.m. on a weekday is not a convenient time to come to a meeting, no matter how important it may be.
This "open house" meeting is a far cry from the excellent and informative open house meeting that the City conducted on January 20-21, 2022. That was 20 months ago. Despite being held during the closing era of the Covid pandemic, the two-day meeting was well-attended.
This open house is what is being offered. For now it's all we get.
Please come!
It's a drop-in meeting, so arrive when you want and stay for a few minutes or for the full two hours. You will learn more about housing in the Gateway Plan, and your involvement will add to our community.
---
Below is the flyer for this open house event.
The five QR codes will link to:
The actual Gateway Area Code draft plan. July 2023, v.2023_v12a.2
https://cityofarcata.org/965/Arcata-Gateway-Area-Plan
Also available here on Arcata1.com in an easier-to-read format.
The Form-Based Code — the Gateway Code.  June, 2023. Gateway FBC v4
Also available
here
on Arcata1.com.
Full Building and Massing video. This is a series of 5 videos, from August, 2022. Total time is 47-1/2 minutes.
The five-part Building and Massing videos are available on Arcata1.com with a full transcription of all five videos. You can watch the video and read the transcript at the same time.
The first video starts here
, with links to the others.
Gateway GIS Analysis and Graphics Support.  23-minute video.
22:43
Shown
here
on Arcata1.com — the full transcript, and all the images. Much easier to watch and read, with still images. In the video, the solar shading images are displayed for just seconds.
A different solar shading video, perhaps more informative than the City's video, is
Solar Shading Impacts
  on Arcata1.com.
---